Hey there, fellow wedding enthusiasts……….Let's talk about the best Hunter Valley wedding venues, shall we? Holy moly, there are a lot of them which is why you might need to clear your diary, get comfortable and pour yourself a glass of wine before you dive into this comprehensive list.
When it comes to the Hunter Valley, most people think of vineyards, cellar doors, and wine tastings. However, this region has so much to offer when it comes to wedding venues. From sprawling country estates to charming chapels to Hamptons-style beach houses (yes, really!), the Hunter Valley has a diverse range of wedding venues, all with stunning vistas, that cater to all styles and preferences.
The struggle to narrow down the list of the best Hunter Valley wedding venues is real, my friend. With so many stunning options out there, it's like trying to choose your favorite flavour of ice cream. Spoiler alert: every venue on this list is amazing in their own way! But fear not, because I'm here to help you sift through the options to figure out what's important to you.
As a celebrant, I'm always on the lookout for new Hunter Valley wedding venues, but I have to admit, there's something special about working at the same place over and over again. It's like getting to know a good friend better each time you hang out. Every venue has its own unique personality. There are things you love about them, quirks that make them special, and maybe a few flaws you choose to overlook! Over the last 7 years, I've gotten to know each venue on this list, so I'm well-positioned to share my insights.
Let's explore the wonderful world of the Hunter Valley's best wedding venues together!
Experience Unmatched Charm and Elegance at one of my favourite Hunter Valley Wedding Venues
Bryce Noone took these stunning photos.
Oh my gosh, let me tell you about one of my absolute favourite Hunter Valley venues – Wallalong House! This place is seriously impressive. It reminds me of those grand homesteads in Ireland that just ooze charm and character. So much WOW factor- your guests' jaws will be on the floor!
First of all, the building itself is just stunning – a mix of Georgian and Victorian architecture that's steeped in history. And the owners, Tess and James, along with their dedicated team, keep the grounds absolutely pristine. You'll find flowers in bloom everywhere you look.
One of my favourite things about the venue is that there are plenty of cosy corners to have a good chat. The day beds by the pool are seriously Insta-worthy and great for sneaking in some private chat. Actually, the whole place is full of photo opportunities like the sandstone stables, the grand dining room, the side-less boho-inspired marquee. Your photographer will love it.
And the ceremony space? Oh, don't even get me started. Picture this: two massive fig trees (rumoured to be over 200 years old!) providing the perfect amount of shade, with green fields and farmland as far as the eye can see. It's seriously breathtaking. When the 'wedding party' comes out of the house and down the steps, you better believe it's going to be a showstopper. I'm talking drama with a capital D, but in the best possible way.
Finding a wedding venue that allows confetti these days can be a bit tricky. But this place? They've got you covered. They don't mind some dried petal eco-confetti. Not only will it make for the most amazing 'walking back down the aisle' shot, but you'll feel good knowing you're being kind to the planet while you celebrate your love.
Once the "I dos" are said and done, your guests can kick back with some drinks, canapes, and lawn games on the lush grass. Don't even get me started on the food. Fennel & Co. Catering are absolute pros and they'll make sure your taste buds are singing with joy. Seriously, let your food imagination run wild – they'll make it happen.
If you're on the hunt for a Hunter Valley wedding venue and you want a Functions' Manager who's going to be on the ball, then you need to meet Tess. She responds to your emails, is organized AF, and is totally focused on making your day amazing. Let me tell you, Tess is a force to be reckoned with. This lady has got it all under control and she's always one step ahead of the game. Need someone to help you coordinate your vendors? Tess is your girl. Want someone to make sure your guests are comfortable and happy? Tess has got you covered. She's like a wedding genie, granting all your wishes with a smile on her face. So, if you want a venue manager who's going to be your wedding day superhero, then you need to meet Tess.
Check out my blog on Andy and Liz's wedding for more photos of Wallalong House.
Discover the Magic: A Rustic yet Chic Lower Hunter Wedding Venue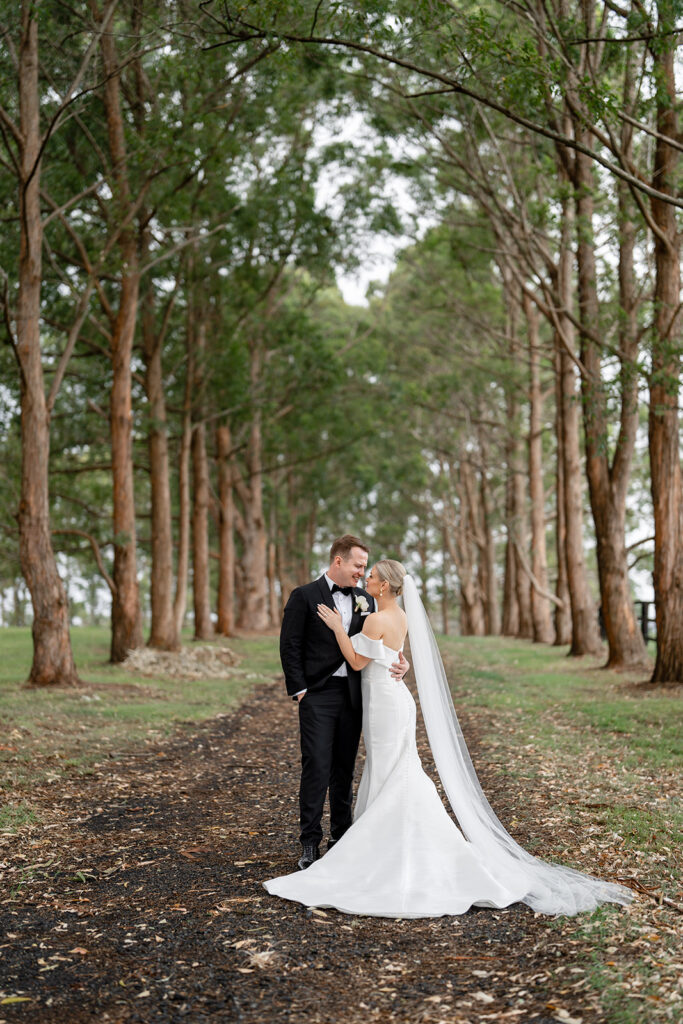 Salt Atelier took these dazzling photos (except the selfie).
Looking for a place to tie the knot that's a little bit country and a lot of chic? Look no further than Chapel Ridge! It's the perfect spot for a dreamy celebration. Plus, this venue is just a hop, skip, and a jump (well, an hour's drive) from Sydney. Technically, it's on the border of the Lower Hunter and the Central Coast but I just had to have it on this list of the best wedding venues in the Hunter Valley!
Set on 130 acres of prime cattle country, Chapel Ridge could be the rural yet modern paradise you've been searching for.
And the best part? Chapel Ridge is exclusively yours, baby! That's right, no pesky tourists or other weddings to contend with – just you, your honey, and your nearest and dearest.
You need to see the inside of the architecturally designed sandstone chapel to believe it. It has floor-to-ceiling crystal windows that will take your breath away! It's got the WOW factor in spades!! Moreover, the clear signing table is a nice modern touch that looks very in keeping with the chic interior.
Oh, and did I mention the Alice in Wonderland maze? Yeah, you heard me right – your guests can amuse themselves there or in the 'pub' while you get your portrait photos- this place is straight-up magical. Your guests will feel like you've stepped into a fairy tale.
And when the sun starts to set, Chapel Ridge truly comes alive: it has gorgeous lighting and lots of varied seating for cosy chats.
This extraordinary purpose-built venue needs to be on your 'must-see' list!
Experience the Grandeur of this Artful, Picturesque, Historic Little-Know Hunter Valley Wedding Venue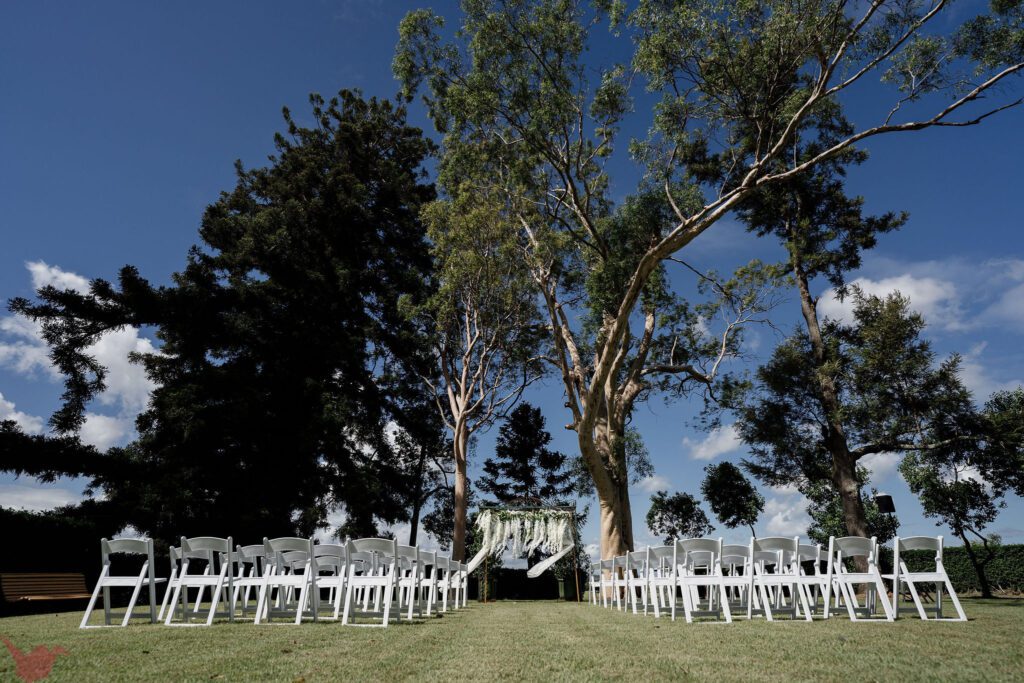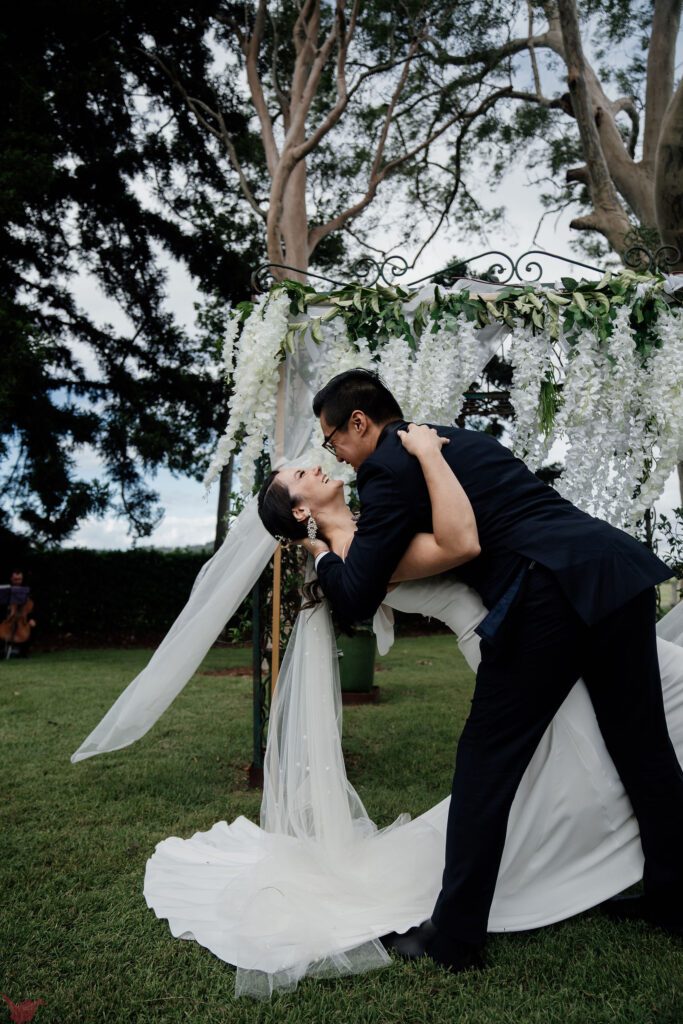 Paper Cranes took these gorgeous photos.
Anambah House is a show-topper on so many levels! This is a very lavish Hunter Valley wedding venue. You enter the country estate through wrought iron gates and drive along a tree-lined driveway which gives you the first impression of the grandeur that awaits.

The heritage-listed country house dates back to the mid-19th century – it's a beautiful spot to get ready in. In addition, the property has been lovingly restored and features original architecture and period features, such as stained glass windows and ornate fireplaces.

You get to say your 'I do's' in a private garden which overlooks the stunning lower Hunter region. It's a perfect setting to start your new chapter together.

The Barn has been refurbished to an exceptionally high standard. It's a genuine fantasy reception venue for a rustic wedding theme. Plus, it features industrial and rustic tones, natural exposed timbers and an open concept plan for a free flowing celebration. Not to mention, it's glass side wall overlooks ancient oak trees, a picturesque lagoon and acres upon acres of pristine lawns.

Overall, Anambah House is a great wedding venue that offers a combination of scenic beauty, historic charm and modern amenities. So, if you want to give your guests the gift of something to brag about to everyone they encounter, this could be the venue for you.
Private Luxurious Villa: Experience the Ultimate in Comfort and Service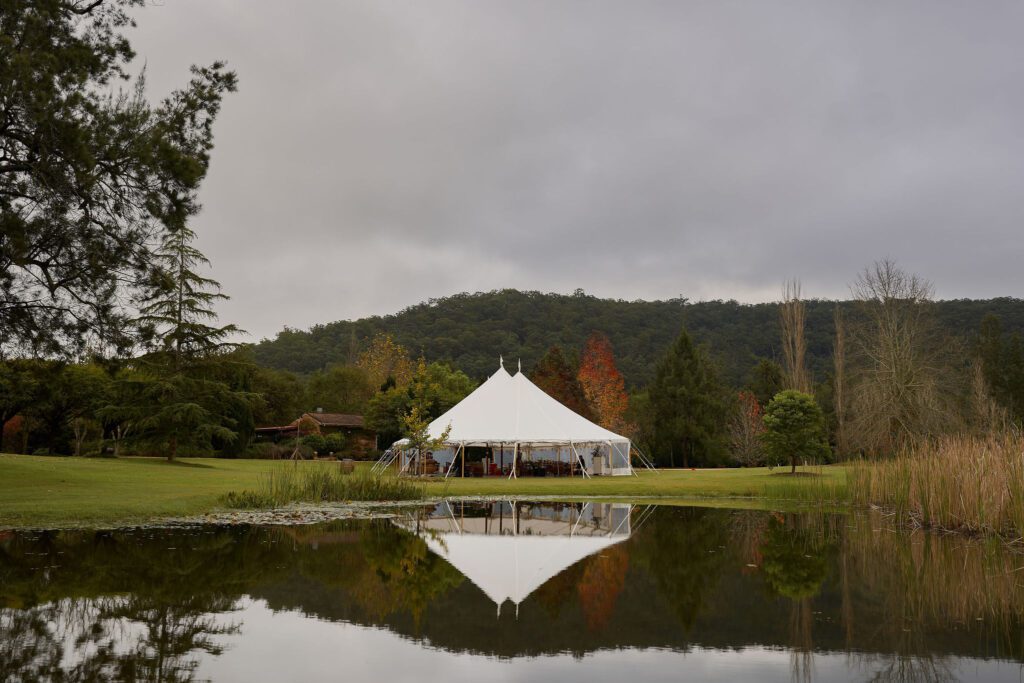 Ben Howland took these insanely beautiful photos.
At Redleaf, you'll experience the pinnacle of luxury and comfort. Additionally, the impeccable service and attention to detail at Redleaf ensure that your special day will be nothing short of extraordinary.
As you drive down the gravel driveway and catch a glimpse of the villa, you'll know instantly that you've found your dream Hunter Valley wedding destination. There is a reason it's known as a highly sought-after luxury wedding venue for discerning couples. In fact, there are many reasons!
Firstly, the villa's Tuscan-inspired facade, enveloped in lush foliage, undergoes a transformation with each passing season, rendering it equally captivating all year round. Whether you choose to exchange your vows in the manicured gardens, near the lavender field or in front of the opulent villa, your ceremony is sure to be nothing short of breathtaking.
Furthermore, the intimate Garden Room is perfect for smaller wedding receptions, but if you've got a few extra loved ones to invite, fear not! Redleaf has got you covered with plenty of space to hire a huge marquee. So go ahead, invite your second cousin twice removed and your parents' friends!
In addition, this Hunter Valley wedding venue is peaceful, private, and secluded which is conducive to both relaxation and revelry.
The six bedrooms in the house are tastefully decorated and provide ample space for the wedding party to get ready in style. Plus, why not make the most of the pizza oven after your ceremony rehearsal?! Once you settle into the luxurious comfort of the estate, it's hard to imagine wanting to leave.
Finally, with its exclusive focus on delivering exceptional weddings, Redleaf promises a level of dedication and expertise that is unmatched. The staff are all about making your wedding day the best day of your life. It's their raison d'être, their reason for being, and it shows.
A Dramatic Entrance: Walk Down the Longest Aisle in the Hunter Valley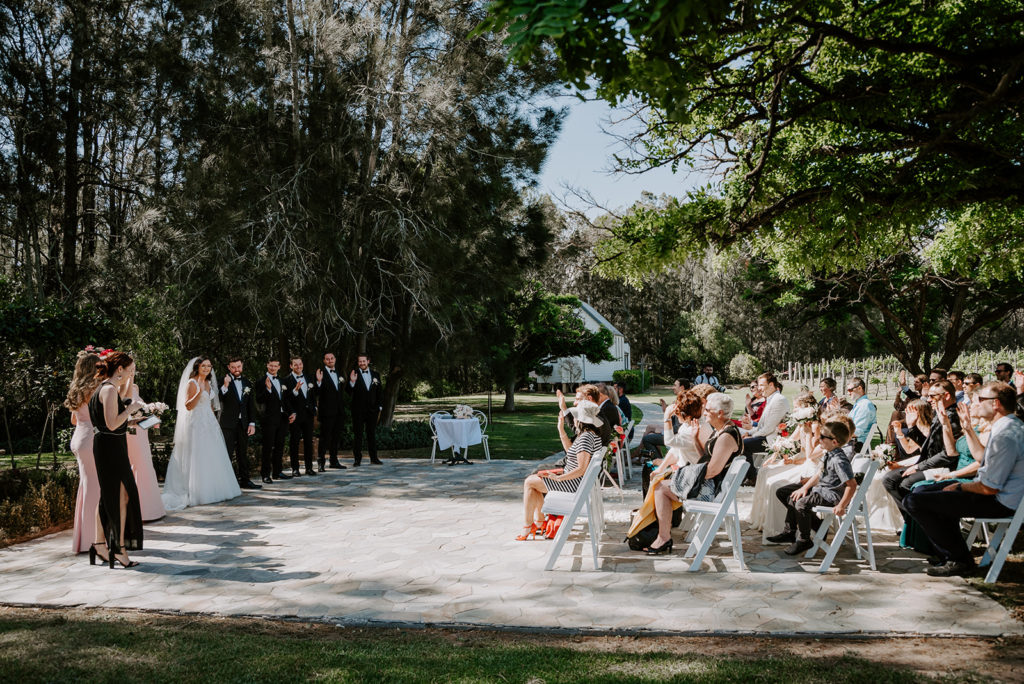 Modern Romantics took these wonderful photos.
Every aisle is a bit nerve-wracking. It can be a strange surreal moment, almost an out-of-body experience, with all eyes on you. ⁠But despite this, I love the drama of a long aisle. Circa 1876 has the longest, most dramatic aisle in the Hunter Valley. ⁠ Walking down that aisle is a moment you'll remember forever.⁠
But if you're more low-key, don't stress. They've also got a restored Welsh Baptist chapel with a short aisle that's cute-as-a-button.
Regardless of which ceremony spot you choose, you can chill in the Champagne Lounge before the ceremony! Fix your dress or suit, have a drink, and calm those nerves. I can even do a meditation with you if you want!
The main ceremony location is so magical that you might not even need an arbour. Floral designers love to show off their skills by having the giant urn overflowing with dramatic blooms. Get ready for some serious enchantment, folks. Your guests are going to be luxuriating on these gorgeous white pews, chilling under the shade of some beautiful trees for the ceremony.
Another great feature of this Hunter Valley wedding venue is that we're standing on stone, not grass! No more sinking my heels into the grass and ruining them. Same for your gorgeous wedding shoes.
If you've ever been to a wedding and left hungry, you'll know that's something you'd never want for your guests. Trust me, no-one is leaving Circa 1876 hungry. The venue's renowned restaurant, located in an historic cottage offers an exquisite modern Australian dining experience. They have their own organic kitchen and use local produce to bring that "farm to fork" vibe to life. I'm drooling just thinking about it. I adore the concept of dining under chandeliers for a grand yet somehow cosy feel.
Whether you're seeking a small and intimate gathering or a grand celebration of up to 150 people, Circa 1876 is a wedding venue that offers something truly unique. The experienced team at Circa 1876 is dedicated to providing personalised and attentive service, ensuring that every detail of your wedding is executed flawlessly. Futhernore, great accommodation options are also found onsite at it's sister property The Convent boutique hotel.
Check out my blog on Jaden + Oscar's wedding for more photos of Circa 1876.
Alfresco Dining at it's Finest at this Hunter Valley Wedding Venue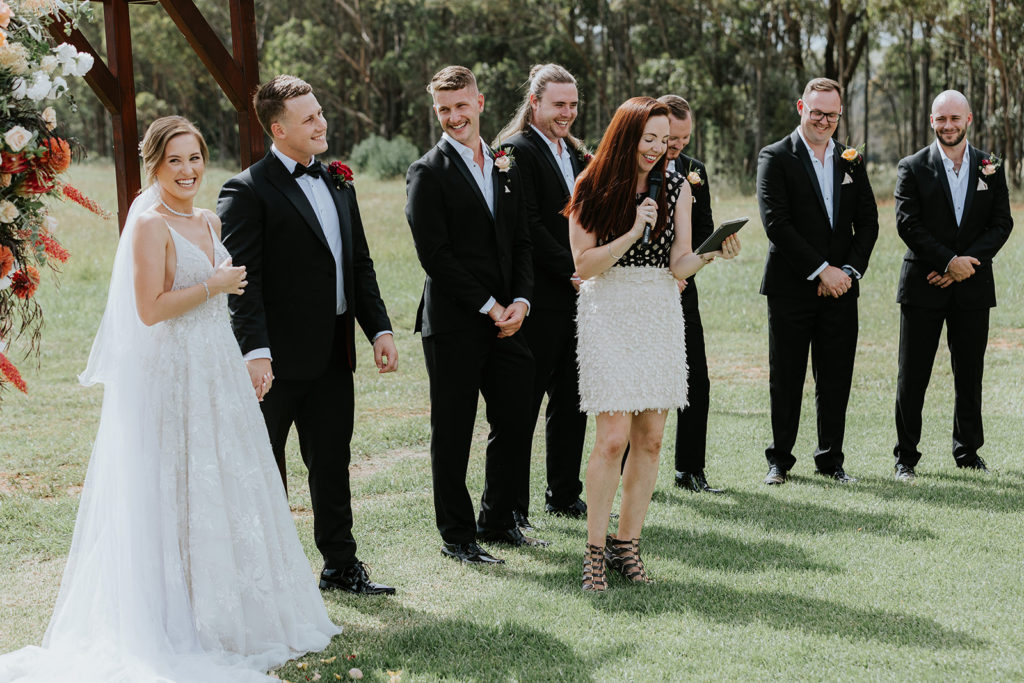 Chris from Under a Tree House took these fun-filled photos.
You might head to Bimbadgen Palmers Lane for the view, but you'll end up head-over-heels in love with their party prowess.
First of all, they've got ceremony spots galore at this gorgeous Hunter Valley wedding venue, from a hilltop perch to a waterfront pontoon or you could even tie the knot nestled among the grapevines. And just when you thought it couldn't get any better, they've got a weather-proof gazebo for when the heavens open up or when the heat is just plain savage.
But that's not all! Get ready to party like it's 1999, because Bimbadgen Palmers Lane has got you covered – indoors or out! With a modern, light-filled reception area that's straight out of an architectural dream, you'll be in party paradise.
Plus, let's be real, nothing beats dining alfresco under twinkling fairy lights on the lush green lawn. If you've been dreaming of an outdoor sit-down dinner this could be the venue to make your long table alfresco dreams become a reality. Your guests will be so blown away, they won't even know what hit them. And don't worry, even if the weather turns a bit sour, you'll still be living your best life indoors with those high ceilings and enormous windows offering up breathtaking views of the hills.
But wait, the fun doesn't stop when the sun goes down! Bimbadgen Palmers Lane has got a firepit that's hotter than the dance floor, and it's the perfect spot to cozy up with your boo for a special moment as newlyweds. Or, if you're feeling chatty, gather your posse 'round the flames to talk about what a freaking awesome day you just had. Whether you're roasting marshmallows or spilling the tea, this firepit is the ultimate spot to end your day with a bang.
Now here's a little something extra that'll have you seeing stars – literally! Bimbadgen Palmers Lane is nestled away in a quiet corner of the Hunter Valley, which means the skies are clear and free of pollution. Translation? Some seriously stunning stargazing opportunities that'll have you and your guests feeling out of this world! And if you're looking to capture that magic on camera, just follow your trusty photographer out into the paddock for a shot that'll be straight-up spellbinding.
Psst, wanna know a secret? Bimbadgen Palmers Lane has got some seriously sweet deals for those looking to tie the knot during off-peak season. And let's be real, who wouldn't want to save some cash while still throwing the party of the year? So don't be a fool, check out those off-peak special offers and get ready to say "I do" without breaking the bank. Your wallet – and your future spouse – will thank you.
Check out my blog of Liz + Tim's wedding for more photos of Bimbadgen Palmers Lane.
Happily Ever After Starts Here: Discover the Rustic Charm and Personalised Service of this Country Estate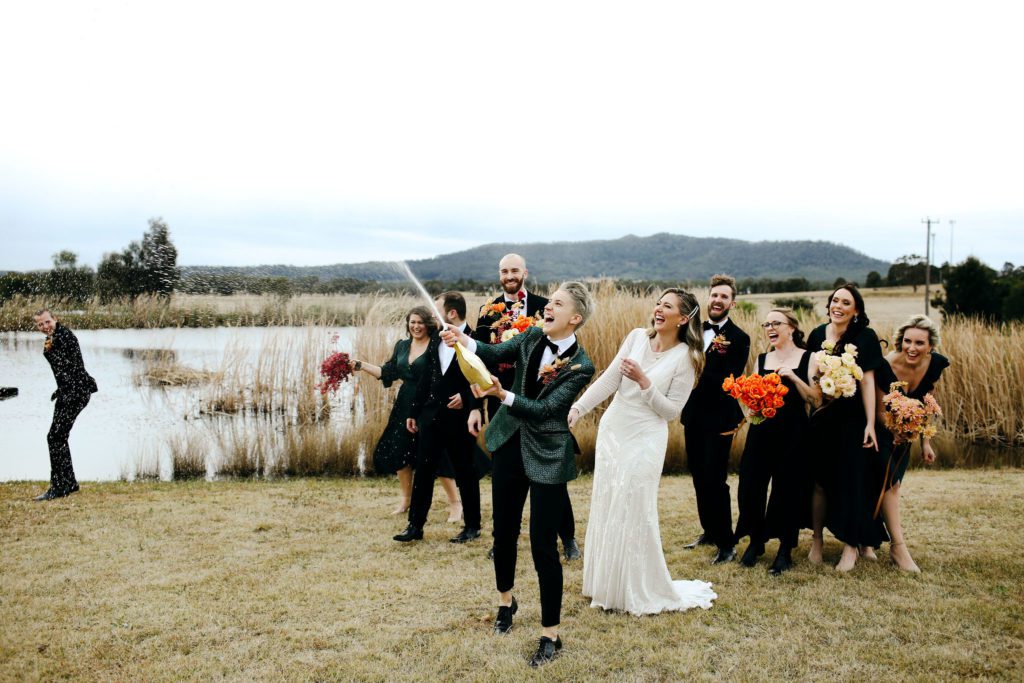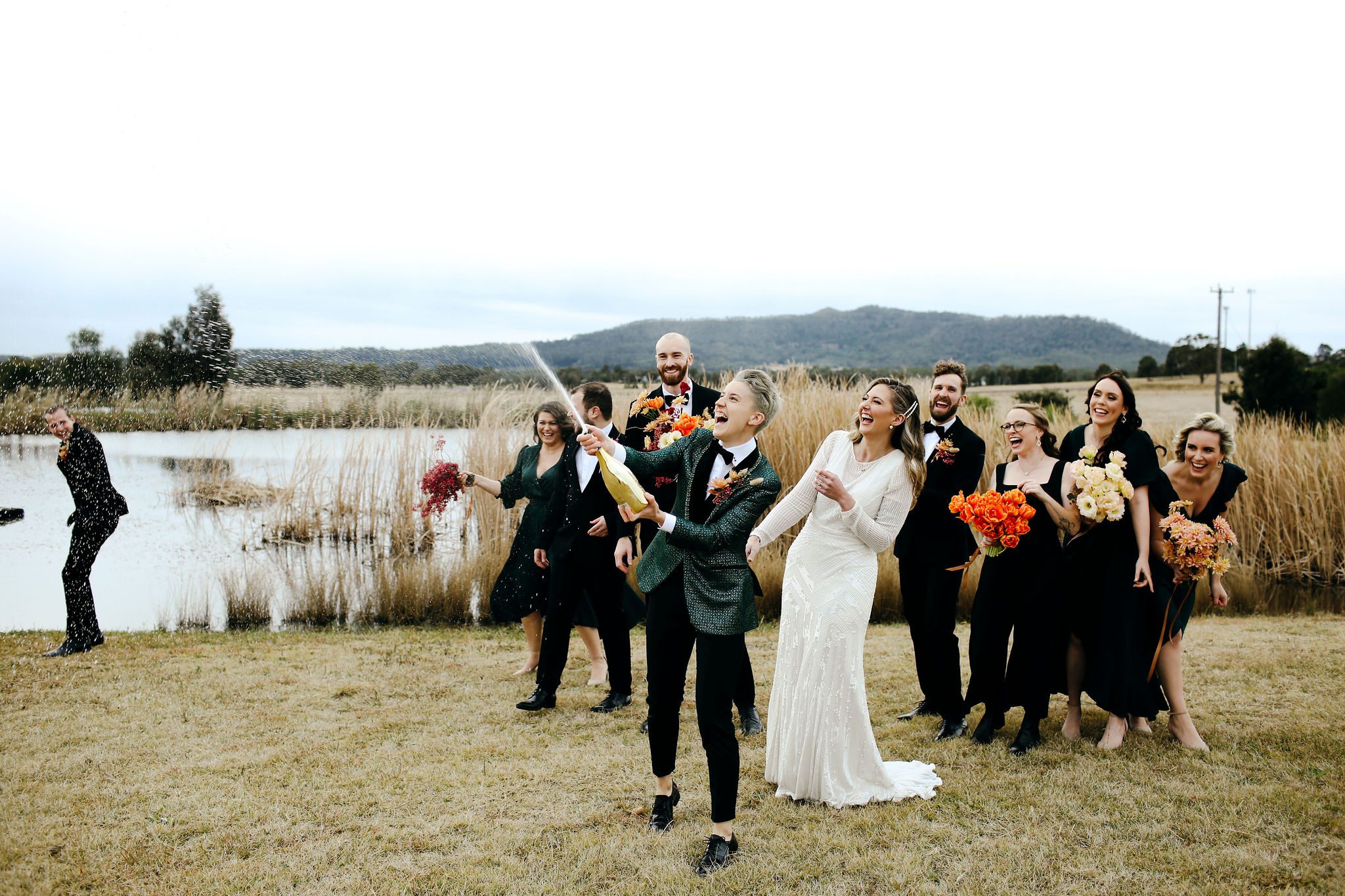 Lara Hotz photography took these exquisite photos.
If you're looking for a Hunter Valley wedding venue that's always in high demand, you better book Adams Peak quick smart. This place is the real deal – stunning views, rustic charm, and service that's so personalised, you'll feel like family in no time.
The team at Adams Peak are very approachable, so you can rest assured they'll bend over backwards to make your wedding dreams come true. And trust me, you won't find a more picturesque spot in the Hunter Valley to say "I Do" than The Lawn. No dount, your guests will be blown away by the stunning backdrop of the Yellow Rock Escarpment, the Brokenback Ranges, and the vineyards all around.
But let's face it, the weather can be a real party pooper. Luckily, they've got a great Plan B – The Hay Shed. It's a covered, open-air space that still has killer views, so your photos will look ace even if Mother Nature's having a hissy fit. So no need to worry about weather woes.
Be warned, before I leave, I will challenge your granny to a game of Jenga or noughts and crosses. I'll do my best to make sure she doesn't beat me.
Now, let's talk reception. The Barn is where the magic happens. It used to be a machinery shed, but they've spruced it up with vintage fairy lights and air-conditioning (thank the wedding gods!). Monkey Place Catering has been feeding guests at Adams Peak for nearly a decade, and they're still getting rave reviews.
And get this, you can bring your own booze! No more overpriced drinks or watered-down cocktails – you can stock up at one of the local wineries and let the good times roll. But if you just want everything done for they also have a set price drinks package to take the budgeting stress away from their couples.
There's accommodation for up to 24 people, including a gorgeous cottage called The Retreat where you can prep for the ceremony. I'll drop by to calm your nerves and we can have a cheeky drink before 'go time'. So, no need to worry about getting ready in a cramped hotel room.
And let's not forget the real stars of the show – the Highland Cows. These furry photobombers will make your wedding photos unforgettable.
Check out my blog of Tara + Liv's wedding for more photos of Adam's Peak.
A Hunter Valley Wedding Venue that's all about Choice, Variety, and Flexibility run by a Family with Heart
Jordan from Redmoose Redmoose took these marvellous photos.
You've never been to a joint quite like this before, my friend. It's an experience that'll knock your socks off and leave you grinning from ear to ear. From the moment you lay eyes on the funky sculpture on the lawn, you know you're in for a treat – a sleek, modern oasis that's been designed with love and care.
If you're after a wedding venue that's all heart and no bull, you gotta check out Woodhouse Wollombi. For starters, this place ain't no faceless corporation – it's a family affair, run by the lovely Gabrielle and Chris who live and breathe this joint. They've been pouring their blood, sweat and tears into it for over a decade, constantly adding new features to make it even more awesome.
Futhermore, there are heaps of gorgeous spots to tie the knot, whether you're keen on the lawn, the woods, near the fire pit, or the lake. And once the ceremony's done, the guests head on over to the purpose-built deck by the lake for some top-notch canapes.
Not to mention, the reception room is something special too – it's got a magical vibe of never feeling too full or too empty, that'll make you feel like you're in just the right place, surrounded by all your favorite people.
Sure, you might not get the best phone coverage at this Hunter Valley wedding venue, but hey – that's part of the charm, right? You and your guests will all be fully present and in the moment, living your best lives and making memories that'll last a lifetime.
If you want to see more photos from Woodhouse Wollombi, check out this blog I wrote about Susian and Mark's wedding.
Unforgettable Hunter Valley Vineyard Wedding Venue where Quality Food, Wine, and Breathtaking Views Come Together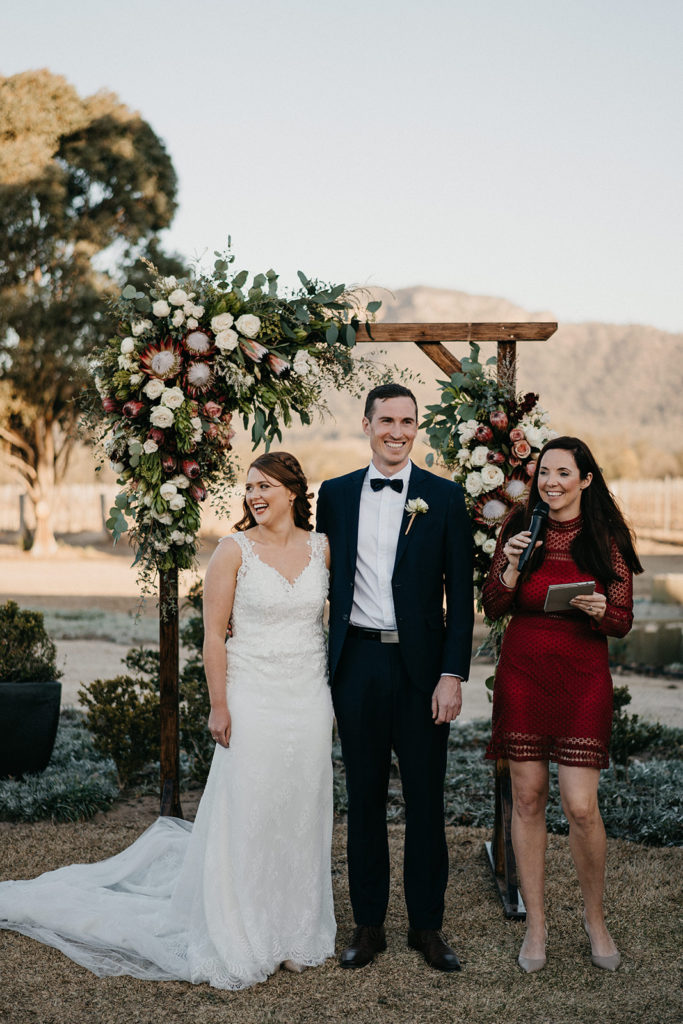 Keegan Cronin took these remarkable photos.
Well, buckle up folks because I've got a wedding venue that's more gorgeous than Ryan Gosling on a unicorn. Margan Wines is the bee's knees when it comes to stylish yet relaxed weddings for those who love good food, great wine, and friendly service.
Their venue is so perfect it's almost too good to be true. I'm talking sweeping views of vineyards, olive groves, and even the Brokeback Mountain range (yeehaw!). And let's not forget about their award-winning wines.
But here's the real standout for me: they farm sustainably because they care about the planet. Seriously, they grow all their produce in their own garden and orchard, and their kitchen has won a hat from the Sydney Morning Herald Good Food Guide (which is like the Oscars of food, FYI). So if you get a chance to try their catering before booking, prepare to have your taste buds blown away.
After the ceremony, you and your guests can kick back and relax on their lawn or in their charming courtyard, complete with soft lighting, a fountain, and landscaping so lush you'll feel like you're in a freaking fairy tale. Then, you'll head to their barrel room for the reception, which is basically like being inside a wine barrel wonderland full of fairy lights.
Ceremonies at Margan Wines start from 4pm. This is wonderful when it's hot so you can avoid sweating like a sinner in church. However, I'd recommend doing a first-look so you don't waste any precious wedding day time. Trust me, you'll want to soak up every second at this dreamy Hunter Valley wedding venue.
If you want to see more photos from Margan Winery, check out this blog I wrote about Nathalie and Ben's wedding.
A Versatile Hunter Valley Wedding Venue a little off the Beaten Track
Stories with Mel took these dazzling photos.
Listen up, lovebirds! If you're all about ditching the hustle and bustle of the city and soaking up some serious peace and quiet in the Hunter Valley, steer clear of the tourist traps in Pokolbin for your big day. Instead, head on over, down the windy road to Wollombi – it's a bit of a hike, but trust me, it's totally worth it. Plus, who knows, you might even catch a glimpse of a sneaky wombat on the way!
Now, let's talk about Stonehurst Cedar Creek – this Hunter Valley wedding venue is seriously special. Tucked away among lush vineyards and rolling hills, it's the perfect spot for a loved-up celebration.
Firzstly, they've got heaps of options for where to say your "I dos" – whether you're after a pear tree backdrop at 'The Grove', a creek-side affair, or something more rustic in the paddocks or protected under the gazebo, they've got you covered.
What's more, there are stunning vista views everywhere you turn, from vineyards to paddocks, gardens to tree groves, making for the perfect photo ops.
Bonus: the whole property is yours for the day, so you can really make it your own. You are given the flexibility to do your own catering and styling, so you can really put your stamp on the day and make it truly unique.
And with some killer onsite accommodation, your nearest and dearest can make a whole weekend of enjoying the rustic charm and natural beauty of the surroundings. Trust me, this place is the bee's knees.
If you want to see more photos from Stonehurst Cedar Creek, check out these blogs I wrote about Michael and Brownyn's wedding and Hannah and Nathan's wedding.
All-Weather Charm in the Heart of the Vineyards: Perfect Year-Round Hunter Valley Wedding Venue
Ben Howland took these striking photos.
I am head over heels for Peppers Creek Chapel! I've been lucky enough to marry countless incredible couples there, so it's safe to say it has a special place in my heart.
First of all, what's so great about this joint is that it's a year-round venue, so you don't have to worry about Mother Nature raining on your parade (or wedding day, rather). And trust me, with La Nina on the horizon and all her heavy rainfall, that's a big deal. The Chapel's got you covered with sides that open up to give you that indoor/outdoor vibe without having to cross your fingers for good weather.
What's more, the architecture is breathtaking – think sandstone walls, wooden beams, and stained glass windows that make you feel all warm and fuzzy inside. Plus, the aisle is one of the longest and most dramatic in the Hunter Valley, which is a total showstopper. Of course, if you're feeling shy, you can always enter halfway down to keep it short and sweet.
The Chapel can be set up in two ways – either in the traditional format or with seats that face the vineyard for a different outlook. And let's not forget about the gorgeous flower-covered walkway outside that's perfect for post-ceremony confetti throwing.
Just a heads up, it can get pretty cozy if you have a large wedding party at the pointy end of the chapel. Therefore, your celebrant may have to manoeuvre around your wedding party a bit. But no worries, a good celebrant knows how to work the space without looking awkward. Oh, and the pews are on the narrow side. If you know this in advance then you can figure out who you want to sit in the front few rows.
If you're thinking about getting all fancy with an arbour at your wedding, hold up a sec. Why limit your floral designer to just one spot when they can let their creative juices flow all over the place? The overhead timber beams? Perfect for some stunning hanging arrangements. The sandstone wall? A killer backdrop for some Insta-worthy snaps. And don't even get me started on those wine barrels by the entrance – they're practically begging to be decked out with some huge statement blooms. Therefore, consider ditching the arbour and letting your florist run wild at this fab Hunter Valley wedding venue!
So, sit back, relax, and let Peppers Creek Chapel charm the pants off you!
If you want to see more photos from Peppers Creek Chapel, check out this blog I wrote about Sarah and Steve's wedding.
Say 'I DO' amongst the Vines: Experience Breathtaking Views at this Romantic and Sophisticated Hunter Valley Vineyard Venue
Light Heart Weddings took these colourful photos.
Looking for a romantic and sophisticated wedding venue in the Hunter Valley? Look no further than Ben Ean Winery – conveniently located in the heart of the region, so your guests won't have to hitchhike their way there.
Picture this: exchanging vows under a 200-year-old fig tree on top of a hill with incredible views, and a cute swing that's perfect for some romantic couple shots (and some fun for your guests too). And that's just the beginning!
For the reception, the Laraghy room can seat up to 150 guests, but if you're inviting more people than the cast of Game of Thrones, the courtyard can accommodate up to 400 seated or 600 standing. The same chefs as the well-known Baume restaurant will provide delicious food, and your guests will enjoy wine from the winery's own range, ensuring they are well-fed and well-watered.
In addition to the great reception areas, there are several accommodation options near Ben Ean Winery, making it easy for guests to find a place to stay.
Overall, Ben Ean Winery offers a beautiful and versatile setting for couples who are looking for a Hunter Valley wedding venue that ticks all the boxes.
If you want to see more photos from Ben Ian Winery, check out this blog I wrote about Fiona and Jonathan's wedding.
Get Rustic Charm and Perfect Pictures at this Charming Hunter Valley Wedding Venue
Popcorn Photography took these dreamy photos.
If you're looking for a wedding venue that's got more rustic charm than a lumberjack's beard? Then Tocal Homestead is the place to be. You'll feel like you've travelled back in time to the good old days of cow-milking and sheep-shearing. And let me tell you, this place is a wedding photographer's dream. You'll find more photo ops than Kim Kardashian's Instagram feed.
Sure, you can't actually sleep in the homestead, but that doesn't mean you can't pose like a boss in front of it. And when the doors swing open for the grand entrance for the bride or groom…all eyes will be on you. It's enough to make even Beyoncé envious. You'll be walking down the aisle like you own the place (which you kinda do for the day).
But wait, there's more! The animals are the real stars of the show. Move over, newlyweds, because those horses in the paddock will steal the spotlight. They'll be trotting over to say hello to your guests with their eye on the canapes……..but those are reserved for the humans.
Speaking of canapes, Sprout Catering is serving up some serious gourmet goodness. Imagine expertly assembling fresh, locally sourced ingredients with more skill than a Jenga master. Their canapes are just too darn tasty to resist. Don't mind me wiping the crumbs off my face!
And let's not forget about the Tocal Homestead team. These folks are like wedding ninjas. They'll go above and beyond to make sure your big day is perfect. You name it, they'll make it happen.
So if you want a wedding that's more farm-fabulous than farmville, Tocal Homestead is the way to go.
Check out my blog of Sarah + Jacson's wedding for more photos of Tocal Homestead.
Squire's Vineyard (Belford)
A Modern Hampton's Style Oasis
The Rennies took these gorgeous photos.
Looking for a Hunter Valley wedding venue that's equal parts chic and laid-back? Look no further than Squires Vineyard, where charm, elegance, and casual luxury come together for the perfect celebration!
Set on a breathtaking 100-acre property with rolling fields, vineyards, and dams, you'll have no shortage of stunning ceremony and photo locations. And don't worry about rain – their wet weather alternatives are impressive: open-sided structures that keep the breathtaking views in tact.
The reception centre and accommodation at Squires Vineyard are nothing short of amazing, with a Long Island, New York Hamptons style that's sure to wow. Picture light-colored interiors, large windows flooding the spaces with natural light, and open floor plans that create a relaxed yet sophisticated beach-house vibe. The furniture and decor are a perfect blend of traditional and coastal styles, with comfortable pieces that invite you to sink in and stay awhile. And if your older guests need a breather from the dance floor, there's even a cozy tea room with gorgeous armchairs for them to relax in.
What truly sets Squires Belford apart from other venues is their styling packages. They're not a DIY venue. Their in-house styling and event planning team will work with you to bring your wedding vision to life using their impressive collection of high-quality silk flowers and decorations.
And guess what? You can bring your own booze to Squires Vineyard! Their attentive staff will happily serve up your favorite drinks. But wait, it gets even better. They've got this adorable mobile caravan bar for pre and post-ceremony drinks. I mean, talk about Instagram-worthy! It's all about keeping those vibes high and the guests a little less restrained during the ceremony. Trust me, a few pre-ceremony drinks will make the laughs louder and the party even more epic. Cheers to love celebrations done right!
My Final Tips for Choosing the Best Hunter Valley Wedding Venue for YOU!
Now, let's talk about some key points to keep in mind when selecting your dream wedding venue.
First and foremost, don't break the bank, honey! Set your budget and stick to it like your life depends on it. Then, choose a location that matches the style of your dream wedding. Additionally, make sure the venue can comfortably fit all the people you want to invite. No one likes to feel cramped or lost in an empty space. Before committing, check if your desired dates are available because Hunter Valley venues are in high demand for weddings.
Also, don't forget to ask about any vendor restrictions. You don't want to end up with a boring caterer just because the venue doesn't allow your dream caterer. Lastly, read the contract as if your mother-in-law wrote it. Make sure you understand everything before you sign on the dotted line. Trust me, it's better to be safe than sorry.
Hey there, lovebirds!
First and foremost, I hope you are doing great and not finding the wedding planning too stressful.
Now let me tell you, I am so excited to share my list of the best Hunter Valley wedding venues. I've poured my heart and soul into this piece, drawing on my personal experiences as a celebrant to bring you a carefully curated selection of venues that will make your special day truly unforgettable.
However, with so many amazing venues to choose from, it's possible that I might have missed a hidden gem or two. So if you know of a venue that you think deserves a spot on this list, don't be shy – drop me a line! I'm always on the lookout for awesome new venues to explore and who knows, maybe your suggestion will make the cut in next year's revised blog. So speak up and share the love!
In any case, I hope you found this blog helpful in your search for the perfect wedding venue. And when it comes time to look for a Hunter Valley celebrant, you should check out my wedding celebrancy services because I'd love to be the one to marry you.
So what are you waiting for? Start planning your dream Hunter Valley wedding today and make it a day to remember forever!
Sending love,
Julie Muir (She/Her)

Celebrant