This was arguably one of the most fabulous weddings I've ever been a part of.
Liv & Tara's Adam's Peak wedding was a feast for the senses. It was full of vibrant colour and strong emotions- an accurate reflection of the couple themselves!

Despite the rain, there was an electric buzz in the air. I did my bit to warm up the crowd, not that I needed to do much. This community was ready to feel the love and laugh out loud. Liv's cousin Benjamin kicked off the ceremony in style by sashayed down the aisle to Beyonce's Crazy in Love.

Tara entered with her parents followed by Liv and her parents to the song Bloom by Paper Kites, and everyone hugged and cried, before I'd even said a word.
"In the morning when I wake
And the sun is coming through,
Oh, you fill my lungs with sweetness,
And you fill my head with you"
 
There was so much about this Adam's Peak wedding to take in visually: the stunning mountain backdrop, the zesty-hued statement florals that popped from the extraordinarily talented @filmandfoliage , and the FASH-UN! Liv was a vision in a sparkly Karen Willis Holmes gown and Tara rocked a jewel-toned tuxedo jacket.

If ever the phrase Instaworthy should be applied to a wedding, this is it! But the couple wanted everyone to be in the moment with them, and not taking snaps so their solution was to have a Social Media Minute. All the guests were allowed to go nuts with their flashes for 60 seconds and then they had to put their phones away. Once the itch had been scratched the guests were able to relax and enjoy the ceremony fully. I led them on an emotional rollercoaster and the legendary @larahotzphotography was there to capture it all.
Never mind being a perfect match for each other. Liv and Tara were MY PERFECT MATCH. From our first chat, they were so vulnerable with me, telling me all the intimate details of their relationship and trusting me completely to deliver their story authentically and with a bit of humour.
Here is a snippet from their unforgettable ceremony…?
Liv & Tara met the way lots of couples meet nowadays: online. Although 7 years ago it was more convincing and less dodgy to tell everyone they 'met at uni', even though they went to different campuses at UNSW.
At that time, they were both trying to make friends in the queer community, so they decided that they'd like to have a friendship more than anything else. For the next six months they hung out. The sparks were there but under a thick confusing layer of friendship. Liv spent a lot of time thinking, is this how I'm supposed to feel around all gay women or is there something special about Tara?! Spoiler: there was!
After a few dates in quick succession, they made the life-changing, highly-thought-over decision to step off the edge together as a couple….and they haven't let go of each other since.
I asked them when they knew they were in love. Tara kept showing her uni friends Liv's Instagram feed saying 'look at her, she is perfect for me!' and when Liv uploaded a video of herself singing 'I will follow you into the dark' by Death cab for Cutie, Tara knew she was the one.
In all seriousness, they both said they felt it very early on in their relationship, but felt like they should wait before saying it, so they started saying 'I more than adore you' as way of dodging the obvious. Even that only pushed out the inevitable for about another two weeks.
Their relationship was so exciting but also nerve-wracking as they were in new territory. Neither of them had known true unconditional love like this before so they developed some cute little strategies to avoid the overwhelm. They'd warn each other before sending very loving text messages with a pineapple emoji, so the other person was prepared for the tide of emotions coming their way ?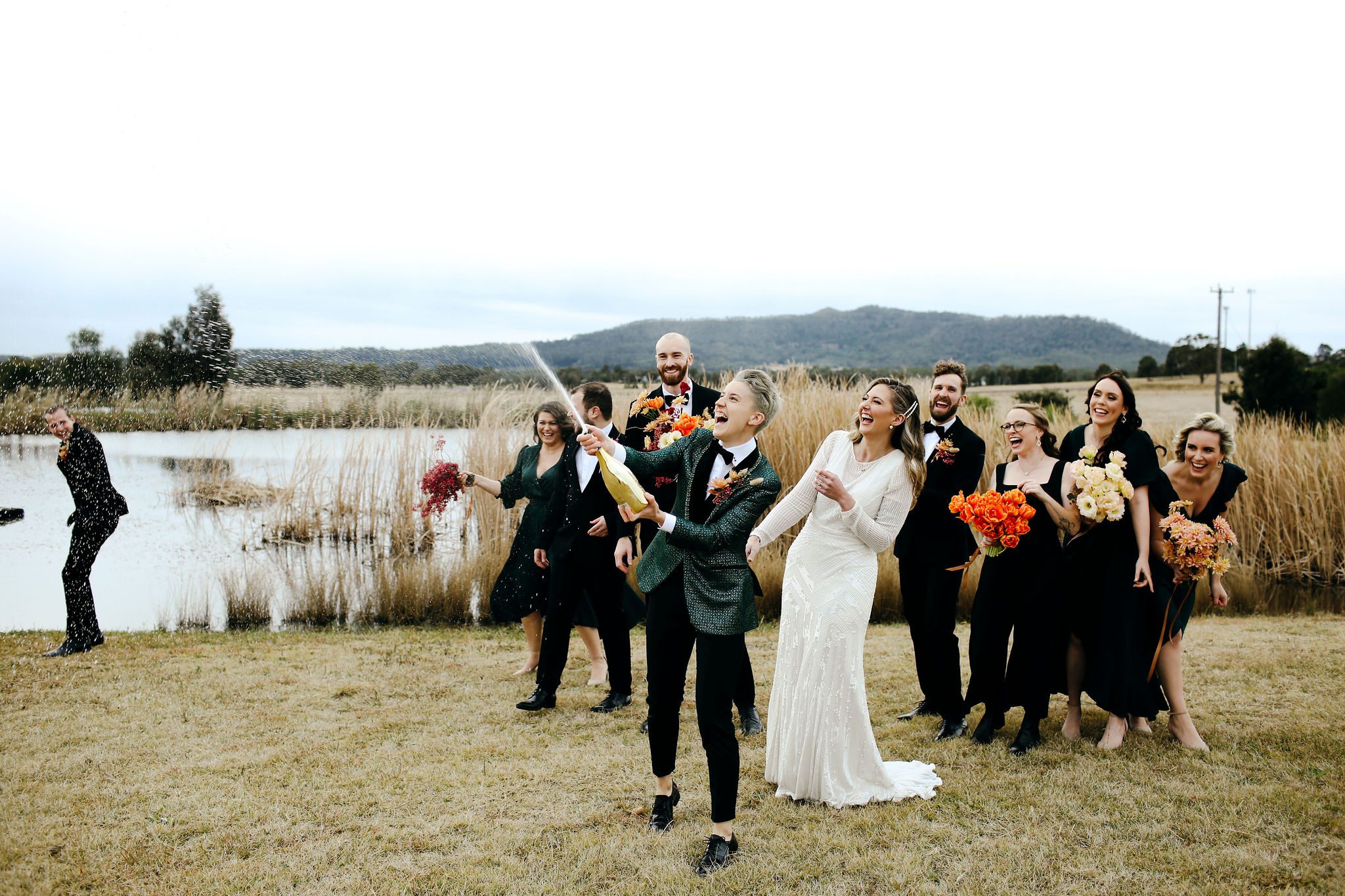 The ultimate showcase of my eco-confetti
Lara Hotz Photography | ⁠Adams Peak Country Estate | Film and Foliage | Isn't It Lovely Events | Makeup by Bonnie Lee | Baker Boys Band | KWH Bridal | Julie Muir's Eco-Confetti | Couture Menswear | Meg Maskell Fine Jewellery | Love Glows Letters Lights Love | Nulkaba Cakes |
"Julie takes so much care and love in her work and you can tell! From the moment we started working with her Julie was light our guiding light, always ready to help and providing us with questions and answers that we hadn't event thought of or processed yet.

Our ceremony on the day was uniquely catered to us and we have been told by guests that it was the most intimate and caring ceremony they had been to. Julie made a strong point to get to know us and our story and portrayed it all in her beautifully creative way, including all the Irish humour we needed!

We also got eco-confetti for our day which was stress free and looked incredible in photos. Thank you so much Julie for your kindness, your entertainment and support in planning and carrying out our special day."
– Tara and Liv
"Julie is a breath of fresh air! She is so genuine, calm and kind. It was such a pleasure working alongside her. She is also incredible thoughtful and I would have no hesitations recommending her to everyone getting married. Thanks Julie xx"
– Lara Hotz, Wedding Photographer
Lara Hotz Photography
Love the Hunter Valley Wedding Venue Adam's Peak? Check out more photos of it on my ADAM'S PEAK PINTEREST BOARD.